Four Party Pavilions, located next to the train station, are available to rent throughout the year. The pavilions are ideal for a birthday party, family reunion, special occasion, or corporate event.
Restrictions:
Party Pavilions are not available for rent during the months of September and October due to the Pumpkin Patch.
Includes:
Picnic Tables 8 (6′ x 3′)
BBQ 2 large
Trash 2 cans
Electrical 4 outlets
Capacity Approximately 80 people
Discounted train tokens available with a Party Pavilion rental on the day of your event.
Options:
Train tokens and moon bounces.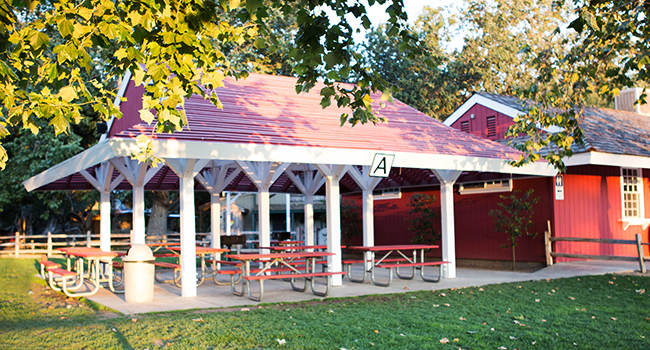 You can purchase train tickets at a discounted price of $4.00 per ticket (regularly $6.00 per ticket) with the rental of a Party Pavilion when you arrive the day of your reservation.
The County of Orange charges an entrance fee into Irvine Regional Park. Click here to view the price per vehicle.
The Party Pavilions are by reservation only and can only be held when paid for in full. Please remember these Orange County party locations are very popular and book 3-4 months in advance.
Please read the Rules and Regulations and the FAQs before making a reservation.
To make a reservation, please click here.
Please note that all outside vendors must obtain a Public Property Permit from the County of Orange for the following activities: Catering, moon bounces, clowns, face painters, animal shows, or any other activity in which an outside vendor is entering Irvine Regional Park. The permit must be obtained 30 days prior to the event. Please contact OC Parks Permits at (949) 585-6447 OR visit the OC Parks web site for more information.
All prices and information are subject to change without notice.