'Tis the season for Irvine Park Railroad's annual Christmas Train. Come with family and friends and take this enchanting night ride through historic Irvine Regional Park to meet Santa Claus. The train will depart from the brightly-lit train station and drop passengers off at the North Pole. Children can share their wish list with Santa and have their photo taken with him too. You may take pictures with your personal camera or you may purchase a photo taken by Irvine Park Railroad.
After visiting with Santa, hop back aboard the train and enjoy the colorful Christmas lights and decorations, as well as the magical "Tunnel of Lights", on the ride back to Santa's Village.
2019 Christmas Train tickets go on sale Monday, November 4th at 10:00 am.
COST
Christmas Train tickets $15.00 per person, 24 months and younger free
SANTA'S VILLAGE
OPEN 7 DAYS A WEEK
November 29 – December 23, 2019
Activity Tickets are $6.00 each
Book of 15 activity tickets are $75.00 ($15.00 savings)
Activity tickets cannot be used to ride the Christmas Train
Weekdays 4:00 pm – 9:00 pm
Weekends 10:00 am – 9:00 pm
IRVINE REGIONAL PARK ENTRANCE FEE
Weekdays $3.00 per vehicle
Weekends $5.00 per vehicle
Holidays $7.00 per vehicle
Parking FREE after 5:00 pm
WISH LIST FOR SANTA
Children can print and fill out a wish list to share with Santa Claus!
CHRISTMAS TRAIN TICKETS
$15.00 per person
24 months and younger ride free

Tickets for this event must be purchased online and in advance. There is a one-time, online ticket fee that will apply to each order.

Important Note: Regular train tickets, tokens, complimentary tickets, discount tickets, and/or coupons are not valid for the Christmas Train. All customers must ride the train to visit Santa Claus.
PHOTO WITH SANTA
$10.00 per photo – $6.00 for each additional print of the same photo
Irvine Park Railroad will take a picture of your children with Santa Claus. Each 5″ x 7″ photo will be available for pickup shortly after it is taken.
Please note: You may take pictures with your personal camera at no cost. All customers must ride the train to visit Santa Claus.  Tickets for the 2018 Christmas Train are SOLD OUT.
Christmas Train Activity Tickets
$6 Per Ticket - or - $75 Book of 15 Tickets ($15 Savings)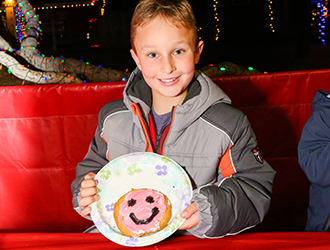 Santa's Village is free to enter and located at the train station. Please note that if you were unable to purchase tickets to ride the Christmas Train, you are still able to come out and enjoy these fun holiday activities.

We also offer Free Activities
inside of Santa's Village
Other activities At the park
while you're here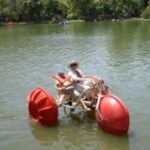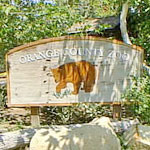 Refund Policy: Irvine Park Railroad does not offer exchanges or refunds for Christmas Train tickets purchased. If the Christmas Train closes due to unforeseen circumstances, you will be notified by email on the date of the event. Additionally, there will be a message on our web site as well as on our Facebook page. The Christmas Train runs rain or shine.
All prices and information are subject to change without notice.
If you plan on riding the Christmas Train with family and friends, we strongly encourage you to purchase your tickets via one transaction. There is a maximum of 50 tickets per order. If you purchased the tickets as part of a group, and you will arrive at the park at different times, we recommend that you print the tickets and give them to the members of your group prior to arriving at the park.
Professional Photography: Professional and/or commercial photography (including staged photography) and/or videography is strictly prohibited.
When visiting the Christmas Train, remember to dress warmly, bring a camera, and arrive early to help avoid crowds.